Orange hot cross bun loaf
A twist on the Easter tradition of hot cross buns, these orange and anise hot cross bun loafs are best served with a good smear of butter and orange marmalade.
We've got the classic recipe too, try these golden saffron hot cross buns.
Ingredients
For the sponge (see know-how)
120g '00' flour (see Fergus's tips)
¼ tsp dried yeast
For the dough
Finely grated zest 1 large orange and juice ½
160g candied orange peel
12g aniseed (or fennel seeds – see tips)
80g raisins or currants
445g '00' flour, plus extra for dusting (see tips)
110ml whole milk, scalded (see tips)
45g free-range egg, beaten (see food team's tip) plus 1 medium free-range egg, beaten, for glazing
10g salt
1 tsp dried yeast
60g caster sugar
60g unsalted butter, softened
For the cross topping
40g plain flour
20g self-raising flour
Pinch caster sugar
2 tsp veg oil, plus extra to grease
1 tbsp marmalade to glaze
Method
Mix the sponge ingredients with a large pinch of salt and 80ml room temperature water in a small bowl to form a stiff dough. Cover with cling film and leave for 12 hours at room temperature. It should more than double in size.
The next day, mix the orange zest and juice, candied peel, aniseed/fennel seeds and raisins/currants in a mixing bowl, then set aside to soak.
Weigh 190g of the sponge mix, tear it into pieces and put in the bowl of a stand mixer with a dough hook attached. Add the flour, milk, 45g egg, salt, yeast and 135ml room temperature water.
Mix on a low speed for 2 minutes, scrape the sides of the bowl down with a spatula or palette knife, then mix for another minute or so until all the dry ingredients are incorporated.
Increase the speed to medium. After about 5 minutes, the dough should be smooth and elastic. If it's still looking a bit ragged or uneven, keep mixing until smooth.
By this point, the dough should be ready for the sugar and butter. Still on a medium speed, add the sugar to the bowl, bit by bit. The dough will become softer and stickier. Carry on mixing until the dough comes back together (this should take 2 minutes or so).
Cut the butter into 4-5 pieces and add them to the bowl, then mix again on a medium speed for 2 minutes or so until fully incorporated (scrape down the sides of the bowl if necessary).
Finally, add the soaked fruit mixture to the bowl and mix on a low speed until well incorporated.
Transfer the dough to a lightly oiled bowl and cover with cling film or a clean tea towel. Leave to rise at room temperature until at least doubled in size (about 1½ hours).
Once the dough has risen, turn it out onto a lightly floured work surface and knock back (knead gently to remove any large air pockets). Divide into 6 equal portions, about 215g each, then shape into tight dough balls. Put
3 balls, side by side, into each of the prepared loaf tins. Cover the tins with a clean tea towel and leave to prove for 1½-2 hours.
While the loaves are proving, make the cross topping. Put all the ingredients except the marmalade in a bowl with a pinch of salt. Add 50ml cold water and mix well until smooth. Scrape into a piping bag and set aside. Heat the oven to 200ºC/180ºC fan/gas 6.
When the dough has at least doubled in size, brush generously with beaten egg all over, then pipe the topping in 1 long stripe down the centre, followed by 3 short ones across the top of each dough ball.
Bake for 25 minutes until the tops of the loaves look golden. Just before the baking time is up, warm the marmalade in a small pan with a little water to make a thick syrup. As soon as the loaves come out of the oven, remove from the tins, transfer to a wire rack and brush all over with the glaze. Leave to cool before slicing.
delicious. tips
Fig and seville marmalade breakfast buns
Gill Meller shares with us the recipe for his signature breakfast buns that are filled with sweet, sticky figs and a tangy seville orange marmalade.
This recipe is taken from Gill's book Time: A Year and a Day in the Kitchen.
Ingredients
500g strong white bread flour, plus extra for dusting
75g caster sugar or vanilla sugar
1 tsp instant dried yeast
10g salt
200ml warm milk
100g butter, melted, plus 50g very soft butter for brushing and extra for greasing
1 medium free-range egg, beaten
For the fruit filling
8 dried figs, roughly chopped
Juice 1 orange
1 jar (about 400g) coarse-cut seville orange marmalade
Method
For the fruit filling, put the figs in a bowl, pour over the orange juice and set aside while you make the dough. In another bowl, combine the flour, sugar, yeast and salt, then add the milk, melted butter and egg. Mix to a sticky dough. Turn out onto a floured surface and knead until smooth (about 10 minutes). Wipe the bowl clean, return the dough to the bowl, cover and leave to rise until doubled in size. This will take 2-4 hours depending on how warm it is.
When the dough is ready, carefully tip it out onto a well-floured surface and roll it out to a rectangle about 45cm x 30cm, with one of the long sides facing towards you. Brush the surface of the dough with the soft butter. Spoon all but a couple of tablespoons of marmalade over the top of the butter, then sprinkle over the soaked, chopped figs. Leave a margin of 2.5cm along the edge farthest away from you.
Take hold of the edge closest to you and carefully roll up the dough, enveloping the marmalade and figs in a spiral as you go. Everything's quite soft at this point, so you'll need to be quite careful. Trim the ends of the roll, then cut along the length so you have 9 equal pieces. Grease the baking dish and arrange the pieces in it snugly, cut-side down. Cover the dish or place it inside a clean plastic bag and leave to prove in a warm place for 1-2 hours or until risen (see Make Ahead).
Heat the oven to 200°C/180°C fan/gas 7. Once the buns are ready, bake them for about 25-30 minutes until golden (see tip). Remove from the oven and, while they're hot, brush the buns all over with the remaining marmalade. Leave to cool before tearing
delicious. tips
Karen's saffron loaf
delicious. editor Karen Barnes' stunning saffron loaf is buttercup yellow and makes a gorgeous weekend breakfast treat, served with a hot cup of coffee.
Ingredients
½ x 0.4g pack saffron threads
Grated zest 1 orange, juice ½
500g strong white bread flour, plus extra for dusting
1 tsp salt
1½ tsp ground mixed spice
70g caster sugar
25g fresh yeast (or 7g sachet dried yeast)
180ml whole milk, gently warmed
2 medium free-range eggs, beaten, plus 1 egg, beaten, to glaze
50g unsalted butter, softened
Sunflower oil for greasing
150g icing sugar
Method
Mix the saffron and orange zest with 40ml boiling water in a small heatproof bowl and set aside to cool.
Sift the flour, salt, mixed spice and sugar in a large bowl. In a jug, blend the yeast with the milk until smooth.
Make a well in the middle of the flour mixture and add the saffron and orange water, yeast/milk, 2 beaten eggs and the softened butter. Mix lightly with your fingers until everything comes together to form a slightly sticky (but not wet) dough. Mix in a tablespoon of warm water if the mixture is a bit dry.
Turn the dough out onto a lightly floured surface and knead for 10 minutes or until silky smooth. Lift the dough up high and slap it back down onto the surface to develop the gluten. You are after a stretchy dough that's firmer than when you started. Put the kneaded dough into a lightly oiled bowl, cover with cling film and leave somewhere warm (a kitchen cupboard is ideal) to rise for 1½-2 hours until doubled in size (rich doughs like this take longer to rise than regular bread doughs).
Turn the dough out of the bowl onto a lightly floured surface and gently knead a couple of times to release any large air bubbles. Return the dough to the oiled bowl, re-cover and leave to rise for 1 hour more or until doubled in
size.
Shape the dough into a smooth lozenge shape the length of your
tin, then carefully put it in the tin. Brush the bread generously with
the beaten egg. Loosely cover with oiled cling film and leave the loaf
to prove for about 1 hour until risen to almost the height of the tin (or higher if your tin is shallow).
Heat the oven to 190°C/170°C fan/gas 5. Bake the loaf for 30-35 minutes until risen and golden brown. Leave to cool in the tin for 10 minutes, then turn out onto a wire rack to cool completely.
In a small bowl combine the icing sugar and orange juice to make a smooth, thick but drizzleable icing. Drizzle it over the bread and leave to set. Serve sliced as it is or lightly toasted under the grill.
delicious. tips
Breakfast brioche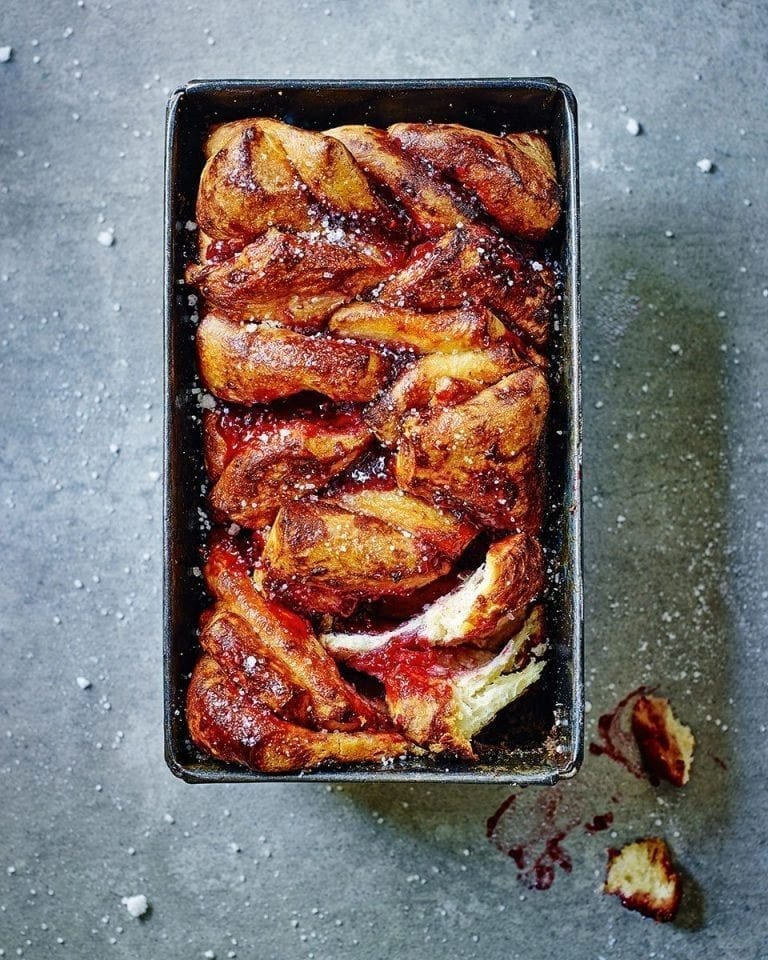 Imagine the smell of fresh brioche cooking in your oven… But this isn't any old brioche. Oh no, this is a jammy brioche with a hearty pinch of sea salt. Next level amazing.
Ingredients
5g fast-action dried yeast
10g caster sugar, plus a sprinkle
300g strong white bread flour, plus extra for dusting
1 level tsp salt
45ml warm milk, plus extra to brush
3 large free-range eggs, beaten
200g unsalted butter, very soft, cubed, plus 50g melted and extra to grease
Sea salt flakes to scatter
½-¾ jar raspberry/cherry/apricot jam
Method
Mix the yeast, sugar, flour and salt in a mixing bowl, make a well in the centre, then pour in the milk and eggs. Mix with a palette knife (or dough hook in a stand mixer) to form a soft dough.
Knead the dough for 10-15 minutes until smooth and elastic. If doing this by hand, you might need a dough scraper. Tip the dough into a greased bowl, cover with a tea towel and leave to rise until doubled in size (about 2 hours).
Add the 200g butter, a piece at a time, using the pull-and-slap technique . Put the dough on an unfloured surface, pull half of it up, then bury a piece of butter in the dough on the table. Slap the pulled dough down, then pull up a new section and slap this down. Repeat pulling and slapping until the butter is incorporated, then add another piece of butter. Don't add it too quickly or it won't incorporate. The dough will turn shiny and very soft. (Alternatively, do this in a stand mixer, still adding the butter a bit at a time.)
Put the dough to the bowl and leave to double in size again. Don't leave it anywhere too warm, or the butter may melt and make the dough greasy.
Knock back the dough to distribute the air, then roll it out on a lightly floured surface to a rough 30cm x 45cm rectangle. Brush the top with melted butter, scatter with a little salt, then spread jam all over. Using a sharp knife, halve the dough, then cut each half into 3 strips. Cut each strip into 4 rough squares. Put them in the tin to fill it haphazardly. Cover with oiled cling film and leave to prove for 40 minutes.
Heat the oven to 180°C/160°C fan/gas 4. Once the dough is puffed, brush with milk, then bake for 45-50 minutes until golden and cooked – cover with foil once the top is golden (after about 25 minutes). Cool for 10 minutes in the tin, then run a knife around the edge and carefully invert from the tin. Leave until lukewarm, glaze with more jam, then sprinkle with sugar and pull apart to eat.
delicious. tips