Parmesan and rosemary biscuits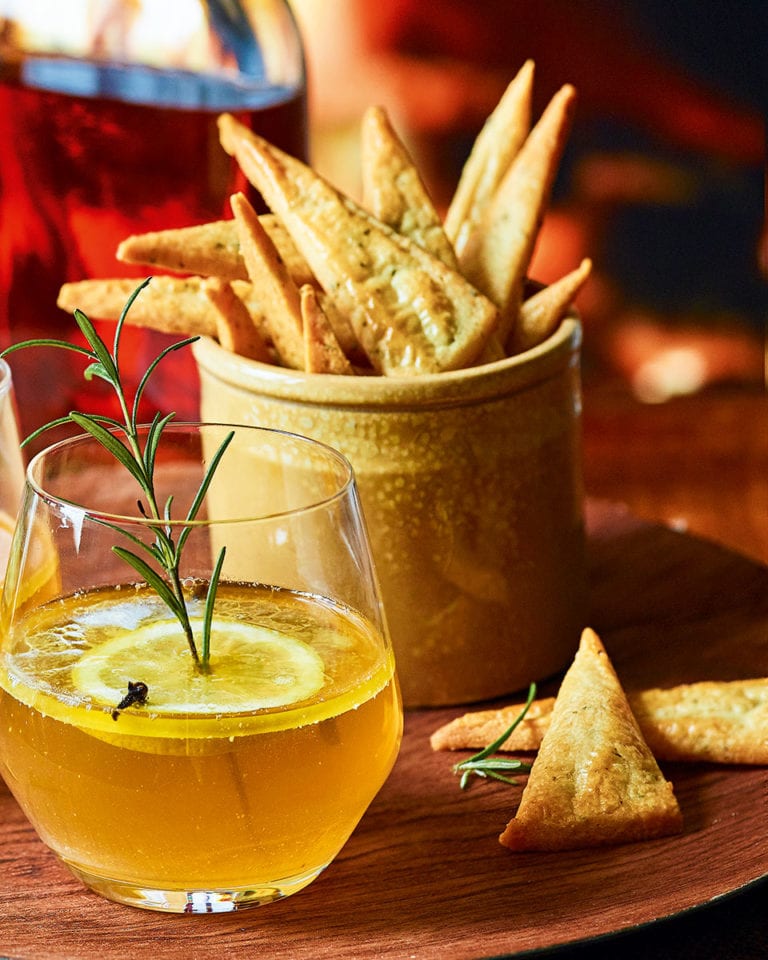 These parmesan and rosemary biscuits are ever so easy to make because the food processor does most of the work for you.
Ingredients
125g plain flour, plus extra to dust
½ tsp baking powder
¼ tsp cayenne pepper
100g unsalted butter, diced
60g cheddar or gruyère cheese, grated
60g parmesan, grated
1 tbsp chopped fresh rosemary
1 medium free-range egg, beaten
Method
Heat the oven to 190°C/170°C fan/gas 5. Pulse the flour, baking powder, cayenne pepper and butter in a food processor until the mixture resembles fine crumbs. (If you don't have a food processor, put the dry ingredients in a bowl and work the butter into them using your fingertips until the mixture resembles fine crumbs.) Add both cheeses and the chopped rosemary, then continue to blend until the mixture forms a dough. (If making by hand, bring the dough together with a round-bladed dinner knife.)
Turn the dough out onto a lightly floured surface, knead briefly, then shape into a rectangle. Wrap in cling film and chill for 15 minutes.
On a lightly floured surface, roll out the dough to a rectangle about 20cm x 32cm x 2mm thick. Cut the dough in half lengthways to make 2 long thin rectangles. Cut each rectangle into long triangles – you should end up with about 40.
Transfer the triangles to the sheets and brush each with a little beaten egg. Bake for 10-15 minutes until evenly browned. Leave to cool for a couple of minutes, then transfer to a wire rack to cool (see Make Ahead). Serve with the rum toddy.
delicious. tips
Fig and orange garibaldi petticoat tails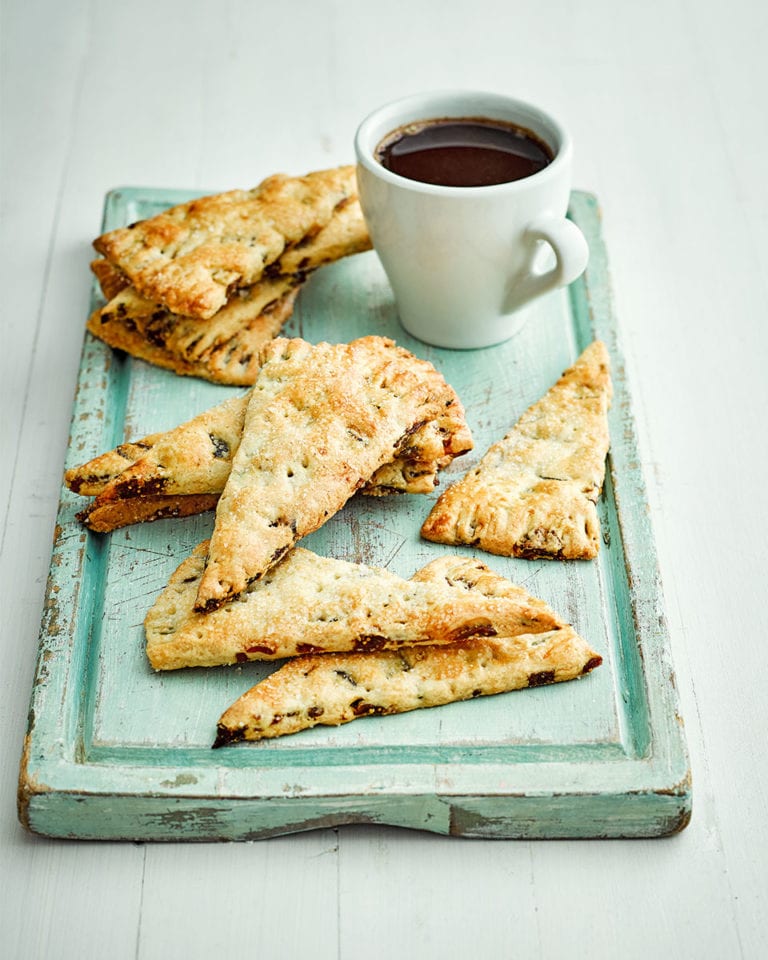 Try making Debbie Major's classic garibaldi biscuits first, then give this fig and orange version a go for an aromatic twist.
Ingredients
110g chilled unsalted butter, cut into small pieces, plus extra to grease
215g dried figs, stalks removed
Finely grated zest 1 small orange
½ tsp ground mixed spice
280g self-raising flour
Good pinch salt
75g caster sugar
6 tbsp whole milk
1 large free-range egg white, lightly beaten
1 tbsp granulated sugar
1 tsp icing sugar for dusting (optional)
Method
Heat the oven to 180°C/160°C fan/gas 4. Lightly grease 2 sturdy non-stick baking trays with butter. Roughly chop the figs into small pieces, then mix in a bowl with the orange zest and half the mixed spice.
Sift the flour, remaining mixed spice and salt into the bowl of a food processor or mixing bowl, add the butter and pulse or work together with your fingertips until the mixture looks like fine breadcrumbs. In a mixing bowl, stir in the caster sugar, then mix in the milk a little at a time until it comes together to form a firm, pliable dough. Knead briefly until smooth.
Divide the biscuit dough into 4 even pieces and roll out each one into a 15cm disc. Scatter an even layer of the chopped fig mixture over 2 of the discs, cover with the other 2 discs, then roll out again to form 2 x 25cm discs about 4mm thick. Use the base of a 25cm cake tin as a guide, if you like.
Prick the discs all over with a fork, then brush with the egg white and sprinkle with a little granulated sugar. Mark each one into 12 even wedges using the edge of a ruler. Crimp the edge of each disc using the tines of the fork, then cut along the marked lines to create petticoat tails.
Lay the biscuits side-by-side, spaced slightly apart, on the prepared baking trays and bake for 15 minutes until lightly golden. Remove from the oven and leave to cool on the trays. Dust lightly with icing sugar if you want to, then serve.
delicious. tips
Chewy coconut cookies (Anzac biscuits)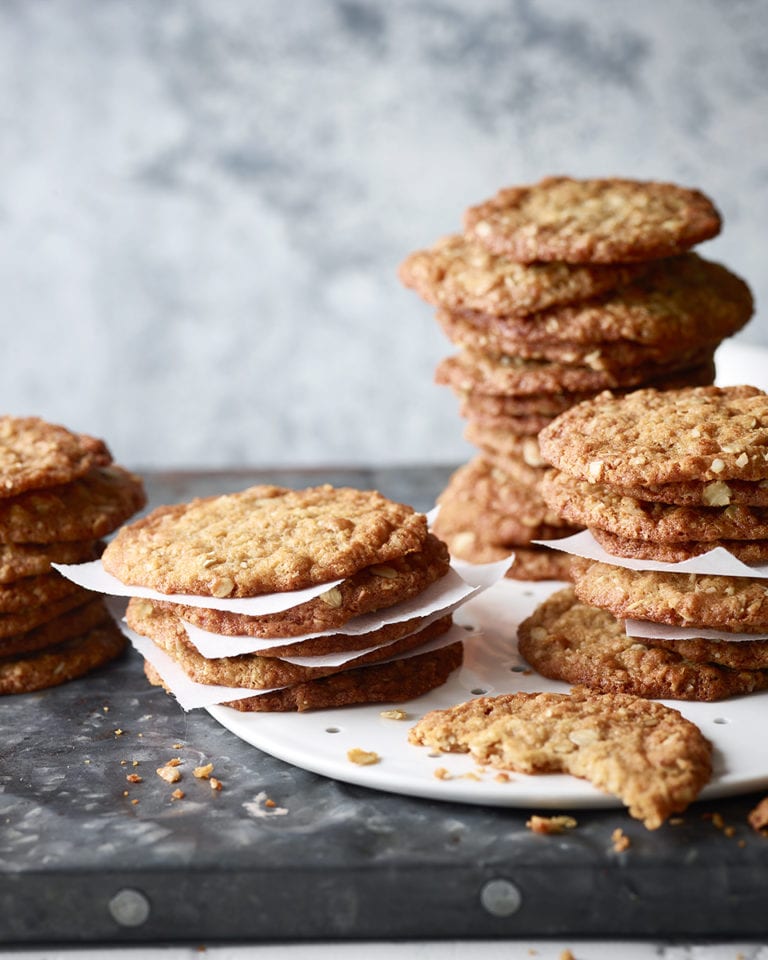 In Australia, Anzac Day (on 25 April) is commemorated with these biscuits. The biscuits were sent by wives and women's groups to soldiers abroad because the ingredients do not spoil easily and the biscuits kept well during naval transportation.
The crisp-around-the-edges and chewy-in-the-centre biscuits have great dunkability, making them perfect with a cup of tea.
Ingredients
90g rolled porridge oats
150g plain flour
50g desiccated coconut
150g granulated sugar
125g butter
2 tbsp golden syrup
1 tsp bicarbonate of soda
2 tbsp boiling water

Method
Heat the oven to 160°C/140°C fan/gas 3. Mix the porridge oats, flour, desiccated coconut and sugar in a mixing bowl.
Put the butter and golden syrup in a large pan, place over a medium heat and leave to melt. Remove from the heat. Put the bicarbonate of soda in a ramekin and stir in the boiling water. Add to the butter mixture and swirl the pan to mix (it will froth up).
Add the butter/bicarb mixture to the dry ingredients and mix well.
Roll tablespoons of the mixture into walnut-size balls. Place them about 5cm apart on the prepared baking trays and flatten slightly with the heel of your hand.
Bake for 10-15 minutes until a deep golden brown. Remove the biscuits from the oven and leave on the baking trays for 5-6 minutes to firm up a little. Loosen with a palette knife, transfer to a wire rack and leave to cool. Store in an airtight tin.
delicious. tips