HOMEMADE ACAI BOWL
This easy to make Homemade Acai Bowl Recipe has just a few good-for-you ingredients and makes for an easy and healthy breakfast!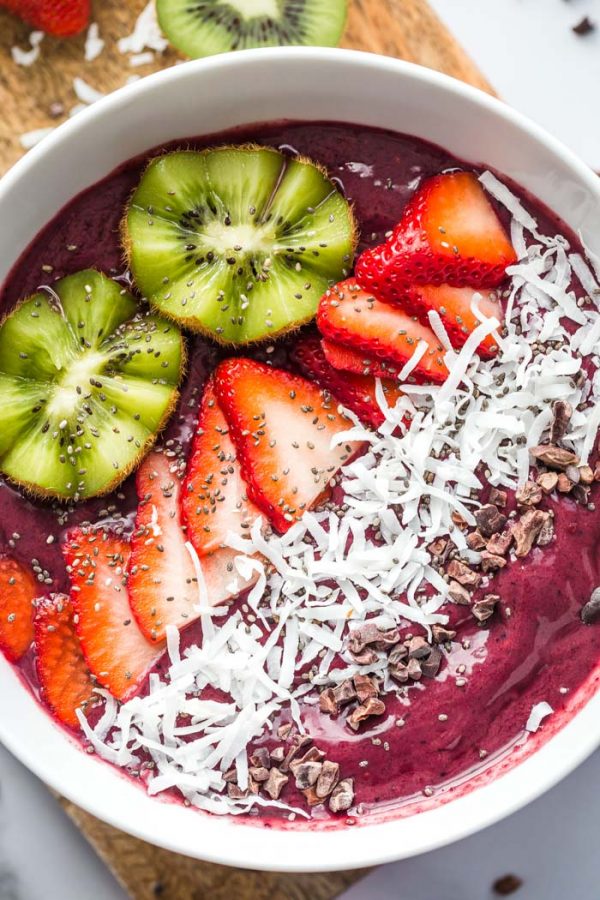 For the longest time, I've gone to a smoothie place here in Nashville whenever I wanted to treat myself to a nutrient packed Acai bowl. They're SO delicious and refreshing (especially on a warmer summer day) but they're also PRICEY! The medium sized acai bowl that I usually get is $10 and a dollar if you want any of the extra add-ons (which I typically do). That's a lot for smoothie bowl.
It used to be that finding frozen acai packets at the store was difficult and fairly expensive. However, lately I have found frozen acai packets and most of my usual grocery stores for a pretty reasonable price. SO I figured it was time to make my own Acai Bowls at home.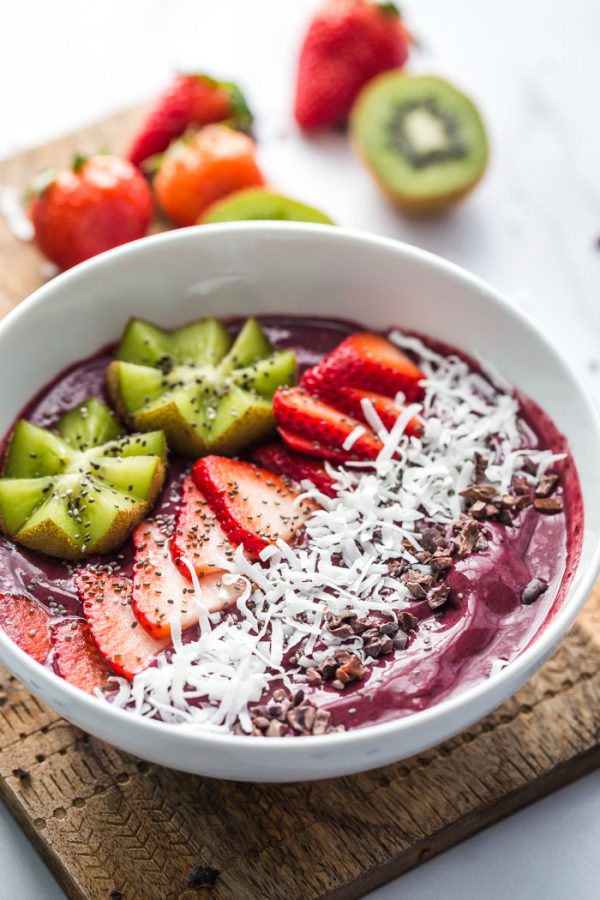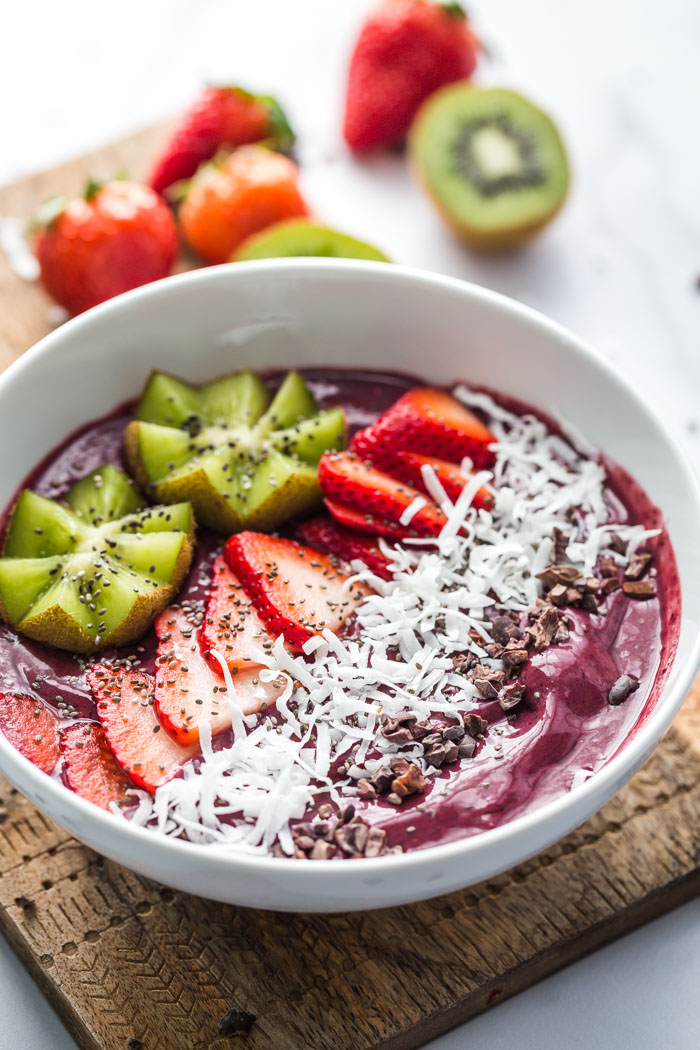 I've been on a HUGE smoothie kick lately (see
HERE
for my recent roundup of all of my favorite smoothie recipes!)
In the past, I used acai powder but really don't like it as much as the frozen acai packets. The powder just has a rather bitter taste and I don't prefer it. Luckily, I've been seeing the frozen packets a lot lately at some of the stores that I frequent the most including Trader Joe's and Publix.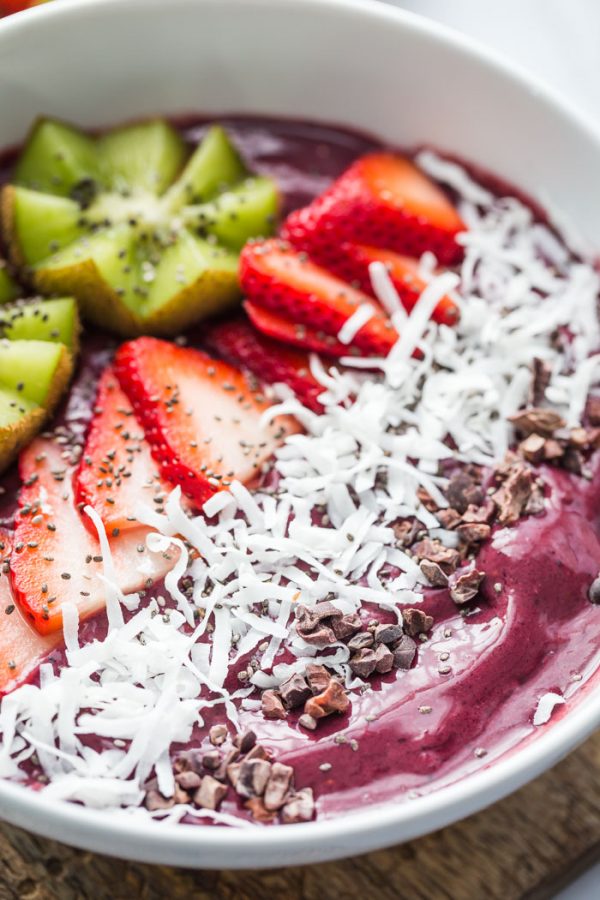 I use one packet per smoothie in this recipe but I've seen others that call for just half of a packet if you want to make them go slower OR if you prefer a slightly lighter acai flavor.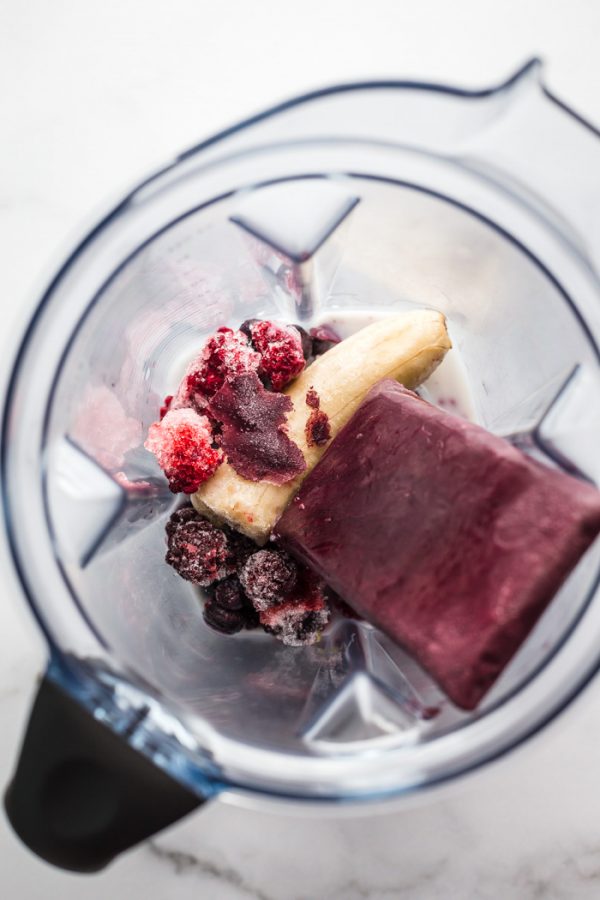 HOW TO MAKE THIS ACAI BOWL RECIPE:
As most smoothie recipes go, this is a "dump everything in the blend and BLEND" kinda thing. Easy and DONE!
You might need to add in a little bit of extra liquid to get the blender going and the acai block completely blended. I try and refrain from adding too much since we want this extra thick and creamy.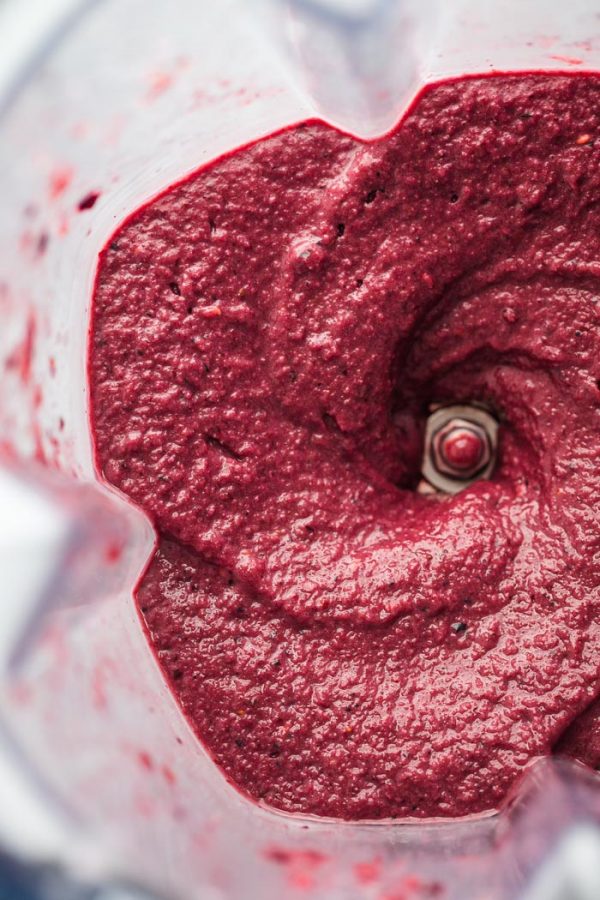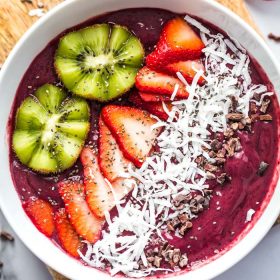 homemade acai bowl
prep time:

5 MINUTES

cook time:

0 MINUTES

yield:

1

LARGE SMOOTHIE BOWL

1

X
DESCRIPTION
This easy to make Homemade Acai Bowl Recipe has just a few good-for-you ingredients and makes for an easy and healthy breakfast!
---
SCALE
INGREDIENTS
1

Acai packet, roughly 100g (I've found these a Trader Joe's, Target, and my local Publix store)

½ cup

of liquid (I like almond milk here but any milk or water would also work)

1 cup

of berries (I typically use strawberries or a mixed berry blend)

½

frozen banana OR

¼ cup

of cauliflower florets*

1 tablespoon

of maple syrup
---
INSTRUCTIONS
Add all of the ingredients to a high speed blender and blend until creamy and smooth. If needed, add a little additional liquid to get the blender going but remember that you want this to be rather thick.
Pour into a bowl and top with your favorite toppings such as additional fruit, coconut flakes, cacao nibs, and chia seeds. ENJOY!
---
NOTES
*This smoothie can be a lot of fruit for some people OR they may not be able to have bananas. If this is the case, frozen cauliflower is a great option to provide nutrients and creaminess in place of the banana.